A Warm Welcome to our Website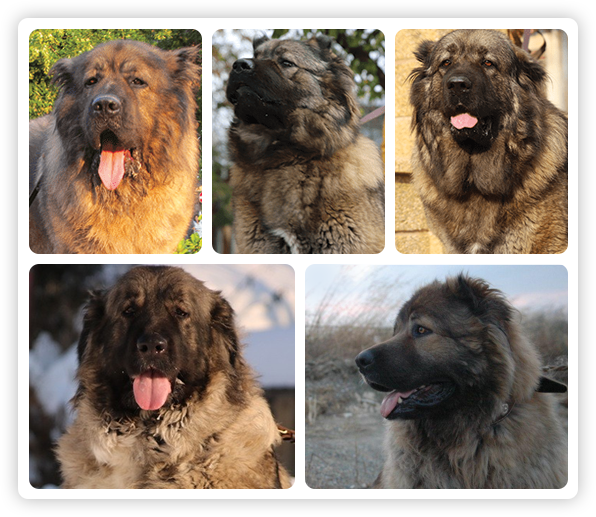 Ten years ago, we first came across this beautiful dog breed while browsing the internet. The moment we saw the pictures, we knew, this is THE dog for us.
It was love at first sight!
We tried to get as much information about these dogs as possible, their character, habits etc., what to feed them and how to groom them, but there was hardly any information available.
We only found one book, and in this book, the author basically told readers not to get such a dog. Most parts of the book were negative through and through.
Nevertheless, three weeks later, "Toby", our first Ovcharka puppy arrived.
We never regret or decision!
With this website, we want to help everybody considering buying a Caucasian Shepherd to make an informed decision.
We will tell you about the pros and cons, offer advice on feeding, grooming, training and much more (please note, we cannot give medical advice).
Since Toby came to us, our "dog family" has become bigger and bigger.
Apart from now owning four Caucasians ourselves (Rose, Ivan, Olga and Odin), we also had a litter of 9 in 2020.
It was hard work at first to raise these lovely, (not so) tiny puppies, but it was a great experience for us and our children - and so rewarding to see them grow and develop into little characters.
After we have sold all our puppies, we still had many people asking for more. So, we were looking for a partner - a professional breeder.
A breeder that cares about animals and their welfare and not just about making money.
It took us quite a while to find the right one.
After travelling around for some time, we have eventually found and partnered with the "Titans Family" in Romania.
From this excellent breeder, we regularly get the best Ovcharka puppies for our customers from all over the UK.
We know there are quite a few so-called breeders out there, selling dogs for very little money. It may sound tempting at first, but be careful!
Many of these puppies come from so-called "puppy farms."
Please be careful where you buy!
When choosing new dogs to bring over here, we make sure they are strong and healthy and come with all the necessary paperwork, are microchipped and have all vaccinations.
Every time we sell a puppy, we make sure the new owner knows how to look after it, and we are always happy to help and give advice = no matter how long ago you have bought the puppy from us.
This website is for everybody who is thinking about buying a Caucasian, as well as for those who already own one or simply just love these beautiful dogs like we do.
We have only just started this website, so please bear with us. We will be uploading new topics every day over the next few weeks.
Enjoy browsing and if there is any topic you would like us to add, please let us know. Just send us an email.
Your Bassi Family